When I think of novelty goods, I immediately think that quality will be compromised. Why?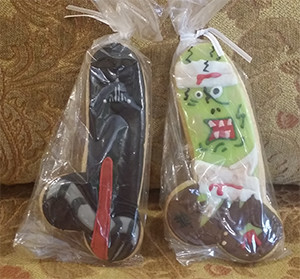 Because of Emotion Lotion. Emotion Lotion was a brand name of personal lubricant that you can use alone or with a partner. "Gets warm when you rub it, gets hot when you blow on it — tastes great!" It boasted. A long time ago, my kid brother asked me to buy a bottle for him. At the time I believe they were sold at Frederick's of Hollywood and of course, he didn't want to be seen going into a ladies lingerie shop to buy it. So I bought him a bottle of Pina Colada Emotion Lotion (or was it Cinnamon?) the next day. Easiest $5 I ever made. But before I gave it to him, I asked if I could rub a little drop on my hand to see if I would be a victim of human combustion. That, and to see if it did, in fact, "taste great."
Not surprisingly, I neither caught on fire nor did it have a delectable concoction of pineapples and coconut lingering on my tongue. I came to believe the sex industry and the world of food were just not meant to collide. Why couldn't Nabisco make a quality edible condom? Why couldn't Sara Lee make a massaging lotion so good that it'll make me want to slap my mama? WHY? Soon after I stopped pondering over the edible panties. Sorry Spencer's Gifts – you're only good for The Walking Dead bobbleheads, 3-foot birthday cards, and 16-month naughty firefighter calendars.
Which brings us to ( cock cookies ). Who wouldn't like to get cock cookies? Like many times before, I assumed it would just be another cookie cutter cookie, pun completely intended. The first thing I noticed was the intricate attention to detail: the colors, the artistry. It's very easy to see that each one is made meticulously by hand. Clearly, they take pride in making a product that they can be proud of and that will make any first-time customer a repeat customer. I think the biggest surprise was how good these were. I expected a Royal Dansk Danish Butter Cookie taste – very crumbly, dry, and stale. Instead, it's a firm, shortbread that melts in your mouth when sucked on. How do I know? Because I sucked on the Speedo wearing co(o)ckie until it was a tiny little mound of wet pastry on my tongue.
As I examined each cookie, I smiled like I'd just seen a penis for the first time. I laid them all out in the order I was going to eat them, like my new clothes at the beginning of the school year in junior high. "I'm going to wear these acid washed jeans first, then my magenta booties, then my white demin jacket. Fuck yea, I'm going to look gnarly." Ryan looked at me from across the room. I can feel his eyes rolling as my eyes were fixated on each little sugar and flour penis: Darth Vader cock, zombie cock, hair chest beanie-wearing cock with the zebra pattern tank top. I unwrapped the Speedo cock, deepthroated it, then licked the icing as I wrapped my lips around the entire shaft. I cupped the two rounded balls at the bottom.
Ryan laughed. "You can't eat all those, I thought you were on a diet," he said.
"What – you want to eat the cocks then?" I boomed.
"Yes, as a matter of fact I do," he answered before he knew what he was saying.
I walked over to my cocks sitting prettily in a row. I grabbed the black Darth Vader cock. "Here." I extended my hand to him. "Take the dick and eat it."
"Wait, wait…wait a second" he responded.
"You said you wanted to eat dicks, here eat this black dick and enjoy it. Or would you prefer to eat the zombie dick? Maybe the hairy chest dick?"
"I'm not eating dicks" Ryan snarled. I shrugged my shoulders as I retracted my offer of a delicious cock for his consumption. "I can at least have the boxers or the nurse's outfit," he bargained.
"I'll think about it. I don't really want break up the set."
Bottom line – I love these sweet cocks. If I am tasked to throw a wedding shower, I will definitely get these as party favors. These are tasty, amusing confections which are absolutely just fun to just have. You can also check out their PG website, Sweet Sanctions, for cookies that straight men can eat without feeling self conscious about enjoying sweet tasty dicks so much.
---
More Info and Price:
The Naughty Cookie Box
Description:
The Naughty Cookie Box provides a great way to incorporate a little playfulness into traditional bachelorette parties, birthday gifts, "Adult" Get-Togethers and Celebratory Wishes. Capture priceless reactions of your friends and family before devouring the incriminating evidence!! As the very naughty sister company to Sweet Sanctions, LLC, we continue to pride ourselves in sharing upscale adult confections at their freshest and look forward to creating a mischievous twist to your occasion while using our platform to create awareness for the Testicular Cancer Society.
---
We are not affiliated with The Naughty Cookie Box or Sweet Sanctions, LLC and get no revenue from this review. Our goal isn't to make money promoting things in hopes you buy it, rather we are just sharing our reviews on products we have tried and want to share with our readers. We review items we buy ourselves or get sent to us as promotional products. All reviews are just our opinions and experiences.